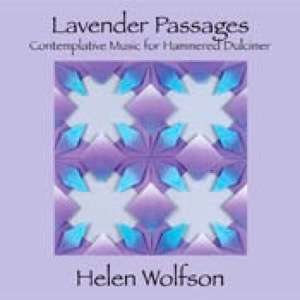 Lavender Passages:
Contemplative Music for Hammered Dulcimer
features contemplative music, suitable for massage, meditation, yoga, or simply relaxing. The music is drawn primarily from the repertoire that I use when playing at bedside.

To purchase this CD from this web site, click here.

To order digital downloads of the entire CD or for individual tracks from CD Baby, click here.

Carolan's Cottage
The first of three of my teacher's counterpoints on this CD, Carolan's Cottage sets the tone, beginning the journey from every-day pace to a more contemplative, relaxed state.

Eleanor Plunkett
This arrangement uses Michael's counterpoint as a focal point, and surrounds it with the serenity of simple and chorded versions of the melody.

Dona Nobis Pacem
I learned this piece as a song in Girl Scouts long ago. When I stumbled across it in a hymnal recently, I couldn't resist arranging it for the dulcimer.

Gnossienne #1
I first heard Erik Satie's hauntingly beautiful music while watching The Royal Ballet perform Glen Tetley's "Trois Gnossiennes." I was delighted to find a guitar transcription that I could use as the basis of this arrangement.

Chopin Prelude
This piece, too, harkens from my connection to the dance world. It was a favorite of one of the first hospice patients that I played for.

Deus Meus
This ethereal melody probably dates from the fifteenth century.

Gymnopedie #1
This arrangement, like Gnossienne #1, is based on a guitar transcription by Peter Kraus. Guitar scores are a good source for me because their range approximates that of my dulcimer.

The New Land
In this piece, Otis Tomas captures the complex range of emotions, from sadness to hope, that you might feel when leaving a long-time home for a new one. He wrote the tune when he first moved to Cape Breton Island.

The Seas Are Deep
In this stunning arrangement by my teacher, the melody and counterpoint trade places part way through. It was the most difficult of his counterpoints to learn.

Song for the Long Grass
Listen carefully and you will hear the wind in the tall grass prairies of the Midwest. The piece was originally written for violin but loses nothing in the translation.

The Water Is Wide
I love this piece. When Brent Lambert, who mastered the CD, first heard it through, he turned to me and said, "That is a marvelous rendition."

Mist on Laurel Lake
My mother and I used to swim together in the early morning mist on Laurel Lake, in Lee, Massachusetts. My dad says that the Freenote Chimes capture it perfectly.